Achieve More Predictable Revenue Streams
Predictive analytics is the answer and future to student enrollment, retention, and success. With our modular and incremental approach to technology investments we can employ our proprietary and industry data and your historical data to make informed decisions that secure a predicable ROI.


Introducing the partnership: Intead + iSchoolConnect + Google

We Urge You: Go Beyond Student Lists Gathered from Inquiry Portals
Our team will guide your institution as you make smart investments into digital marketing and predictive analytics that lead to quick wins along a defined, transformative path. Our approach supports customized, incremental steps to deploy technology modules every institution needs (recruitment, enrollment management, alumni relations, career services, etc.). Yet, each institution is different in how and when each valued module blends into this institution-changing initiative.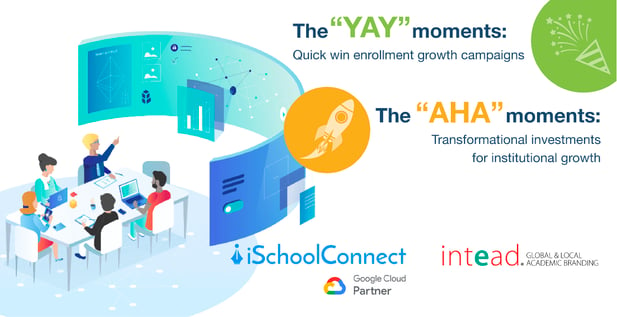 Build Capacity Beyond Your Current State
Our artificial intelligence tools are key to accessing the power of data. Our partnership with iSchoolConnect and Google provides access to advanced and agile computing that few other agencies are able to provide. Together we will see and act on a broader range of market knowledge for your institution and build solutions that are unique to your institution's prioritized needs.
Get Started
Schedule your initial assessment here.